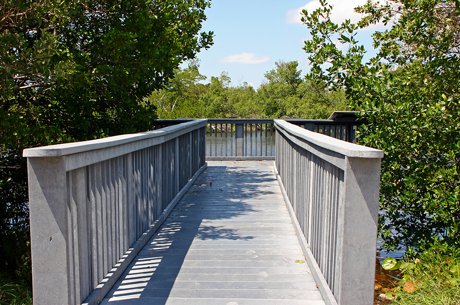 Fine Florida days bring folks living in Jensen Beach out into the sunshine. Indian Riverside Park is a favorite destination of locals. There's plenty to do to keep everyone happy. Over 60 acres bordering the Indian River Lagoon provide a plethora of recreational opportunities. Walkers and hikers love the pathways on the Jensen Beach property.
Surroundings are scenic taking folks through a lush mangrove, along the waterfront, and by lovely landscaped gardens. When the days are just a bit too warm kids can frolic all day in an interactive fountain. Water spouts shoot out of the ground causing shrieks of glee The laughter in this section of the park is contagious by all those passing by the merriment.
Youngsters living in Jensen Beach can also play all day in the Children's Museum of the Treasure Coast. Located in the park, the museum mixes education with play. Interactive exhibits and displays coincide with special events stimulating imagination and interest in art, science and much more.
Catch the Big One on Jensen Beach Property
Sports enthusiasts are also in their element here. Open fields beckon for games of soccer, flag football, and spontaneous bouts of tag. Florida fishing is second to none, and the big one taunts anglers as they cast off from the 780 foot fishing pier. Whether the stringer gets filled with fish or not, many proclaim "a bad day fishing is better than a good day at work". Lunch in the park is a favorite pastime and multiple picnic pavilions are at the ready.
Various Indian Riverside Park venues are available for rent during special occasions such as weddings, banquets, reunions and such. The Mansion at Tuckahoe serves all sizes of crowds with sophistication. Captain Henry Sewall's House is a bit more laid back in style but big on charm and history. Both settings have an excellent staff dedicated to putting every detail in place. Those wanting to reserve a date or seeking more information regarding the park can call 772.463.3201.